P8/FR
Flexible hose made of a layer of flame retardant neoprene-coated fibreglass fabric, internal and visible copper-plated steel wire helix and external fibreglass
SPECIFICATIONS
COLOUR: Black
LENGTHS: 4 m standard
OPERATING TEMPERATURE: -55°C to + 130°C (+ 150°C peak)
AXIAL COMPRESSIBILITY: 30%
COMPLIANT TO THE FLAME-RETARDANT STANDARDS:
Class M1 (UNE 23723-90,) CL V-O (UL-94), EN 45545-2:2013, UNI CEI 11170-3:2005
GREEN BUILDING
Contribute to obtain the credits of the major international rating systems for sustainable buildings: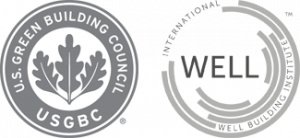 APPLICATIONS
Industrial suction and ventilation. Cooling of electronic equipment and ship machine rooms. Diesel air suction and motor vehicle heating.
MAINTENANCE
Periodically check the state of wear of the hose and immediately replace it if damaged or broken. Pay maximum attention to the duct operating temperatures.
Description
Flexible hose made of a layer of flame retardant neoprene-coated fibreglass fabric, internal and visible copper-plated steel wire helix and external fibreglass