M30-HTR
Flexible hose made of reinforced polyamide fabric, coated by PVC on both sides, embedded steel wire helix. Resistant to temperatures up to +120°C.
SPECIFICATIONS
• COLOUR: Grey
• LENGTHS: 10 m standard (up to 20 m on request)
• COMPLIANT TO THE FLAME-RETARDANT STANDARDS:
UL94, class VTM-0, class 1 (D.M. 26/06/84)
• OPERATING TEMPERATURE: -20°C to +120°C
• CURVATURE RADIUS: R = 0.5 x ø
• AXIAL COMPRESSIBILITY: 8:1
GREEN BUILDING
Contribute to obtain the credits of the major international rating systems for sustainable buildings: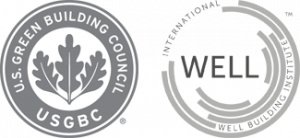 APPLICATIONS
Suction of fumes, gases and vapours. Civil and naval ventilation and aeration.
MAINTENANCE
Periodically check the state of wear of the hose and immediately replace it if damaged or broken. Pay maximum attention to the duct operating temperatures.
Description
Flexible hose made of reinforced polyamide fabric, coated by PVC on both sides, embedded steel wire helix. Resistant to temperatures up to +120°C