P4/PES
Flexible hose made of a layer of silicone-coated polyester fabric, internal and visible copper-plated steel wire helix and external fibreglass
SPECIFICATIONS
COLOUR: Brick red
LENGTHS: 4 m. standard
OPERATING TEMPERATURE: -50°C +210°C
AXIAL COMPRESSIBILITY: 30%
GREEN BUILDING
Contribute to obtain the credits of the major international rating systems for sustainable buildings: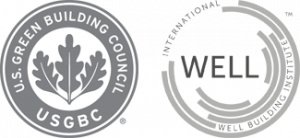 APPLICATIONS
Suction, extraction and blowing of air even with dusty particles in presence of high temperatures.
MAINTENANCE
Periodically check the state of wear of the hose and immediately replace it if damaged or broken. Pay maximum attention to the duct operating temperatures.
Description
Flexible hose made of a layer of silicone-coated polyester fabric, internal and visible copper-plated steel wire helix and external fibreglass